Welcome To Vinings Massage & Wellness
Whether you seek Relaxation, Stress/Pain Relief, Oncology Massage or Pre/Post-Natal Massage, you have come to the right place.
At Vinings Massage & Wellness, we specialize in therapeutic wellness massage. We help our clients release pain, anxiety and stress, allowing each client to live in comfort and relaxation. As we continue on our journey of helping people reduce suffering and embrace bliss, we are expanding our team at Vinings Massage. In addition to our wide variety of massage therapy services, including pregnancy massage services, sports injury massage service, couples' massage, and corporate wellness and massage services, we are continually adding new service providers and our Health and Wellness Coaching Services.
We encourage you to explore our website and get to know us. If you would like to schedule an appointment, you can quickly book online or give us a call at 404-492-8582.
Thanks for visiting! We wish you Wellness.
Cara Thurman, L.M.T
Owner
VMW is dedicated to supporting the health and wellness of our clients and employees.
Through authentic relationships, a therapeutic environment and compassionate touch, stress, anxiety and the busyness of modern life can be put aside so that we can attend to the present and embrace our genuine selves.
You will not find a higher level of client centered care anywhere else.
Cara
Owner, LMT, Wellness Coach
My path to opening Vinings Massage with my husband has been a long one. After working in marine conservation, then owning and running a small organic vegetable farm, I started experiencing some health problems. Seeking a holistic approach, I found myself a massage therapist who helped me manage the anxiety and pain that comes along with illness. Through this relationship, I discovered, first hand, the extraordinary benefits of Massage Therapy. After recovering and regaining strength, I knew that I wanted to pursue a career in holistic healthcare.
Providing the space and support for people to create wellness in their lives as well as a place for individual practitioners to thrive has become my passion. I love doing all types of massage, and specialize in working with people experiencing cancer and chronic illness. I also perform Pre- and Post-natal Massage, along with massage for anxiety, stress, and pain relief. I am also a Health and Wellness Coach, which enables me to help men and women move through the experience of life with control and ease
Marc
Massage Therapist, LMT
I was born in Turkey and took my first sports massage training at the Anadolu University Physical Education and Sports Facility. During my junior year, I started to become more interested in kinesiology and sports science. After graduating, I move to the US and began practicing as a therapeutic and sports massage therapist. In addition to my college degree, I also graduated from Academy of Healing and Arts where I received certifications in Swedish, Clinical Sport Massage and Neuromuscular Therapy (NMT).
I am extremely passionate about the positive effects of massage therapy on the body and the mind. I have worked with professional athletes, sports teams and weekend warriors. I specialize in revitalizing sports massage for fatigue and sore muscles post workout as well as injury rehabilitation. I also work with clients on tension, migraine and headache relief. All my clients also benefit from a focus on relaxation and forgetting life's stresses.
In my spare time I enjoy playing golf and have a special talent for working with golfers and helping them improve their game.
Bernadette
Massage Therapist, LMT
Practicing massage for me allows me to apply my compassion for the wellness of others to both my personal and work life. Being a Massage Therapists is a lifestyle and I continuously fill myself with knowledge of the human body in an effort to facilitate healing for both myself and all those I encounter. I have always known that I wanted to be in the medical field but after pursuing a pharmacy degree I realized I need more client interaction.
My specialty is promoting pain relief and bring about new journey of wellness with every being that graces my table. I enjoy providing relaxation for Prenatal clients, giving Swedish, deep tissue, Thai massage as well as neuromuscular therapy. I incorporate reflexology within all of my sessions to enhance my client's holistic wellness and to achieve therapeutic serenity.
I currently hold my master's in social work and continue to advocate for the well-being of those who cannot do so for themselves. I am a registered and practicing Yoga Instructor with Yoga Alliance and I graduated from Atlanta School of Massage with Honor and the Humanitarian recognition award.
In my spare time I enjoy teaching/practicing yoga and finding new trails to explore around Atlanta. When not outside you can find me with my nose in a good book.
After moving to the United States with my family, I wanted to start a new career. I had always wanted to do something with my hands that added substantial value to people's lives. I experienced the power of massage therapy hands on when someone in my inner circle became ill. From that experience, I knew this was what I wanted to do, so I enrolled at the Atlanta School of Massage.
I love being a massage therapist and plan to continue to explore all the opportunities that this field has to offer. I am extremely excited to continue to learn new modalities and grow as a massage therapist. I am currently trained in Swedish Massage, Deep Tissue Massage, Neuromuscular Therapy and Oncology Massage. I believe that every client is unique and different. I am empathetic to each client's journey and work to provide a personalized experience that fits that individual client's needs.
In my spare time I like to relax with family and friends by cooking, hiking and traveling together. When I have a spare moment to myself, I enjoy reading, surfing the web, tennis and yoga.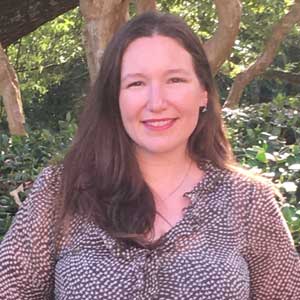 I have been providing massage therapy and bodywork since 2006. Having learned from many great healers over the course of my massage career, I have found it beneficial to incorporate several different styles into a single session. I have received advanced training in: Manual Lymphatic Drainage, Myofascial Release, and Oncology Massage, but I am also skilled in Swedish, Deep Tissue, NMT, Foot Reflexology, and Indian Head Massage.
My career has led me to contract with corporate offices, sports agencies, film studios, chiropractic offices, hospitals, and luxury spas. When I am not practicing massage therapy you can find me volunteering in my community, enjoying a cup of coffee, or hiking one of Georgia's beautiful trails.
I became a massage therapist because I've always had an interest in helping others, especially through a holistic approach.
I'm certified in neuromuscular therapy, Swedish & deep tissue massage, seated massage, assisted stretch, and spa therapy. If I had to claim a specialty it would be deep tissue and assisted stretching because, it is such a powerful combination for athletes or anyone with muscle tension.
I am furthering my education in Kinesiology and am on track to complete my Master's in Occupational Therapy.
In my spare time I enjoy traveling, crafting, dancing, practicing Spanish, volunteering, and spending time with family and friends. I've been to 11 countries on four continents and I enjoy hula hoop dancing.
My journey began as a licensed physical therapist in 1990 with a focus in orthopedics, manual therapy, and pain management. After experiencing the benefits of massage myself, I too became licensed in massage therapy in 2000. Since then I have enjoyed integrating all I've learned into a compassionate practice that honors and supports you on your path to wellness.
Each session begins with a few minutes of assessment of and conversation around your specific needs and how our session can best benefit you. Modalities I may incorporate include myofascial release, positional release, active isolated stretching, breath work, movement reeducation, manual lymphatic drainage, scar management, acupressure, energy balancing, and craniosacral therapy.
After undergoing treatment for breast cancer in 2018, I have a newfound passion for supporting others who may be going through cancer treatment or who are recovering from treatment. I understand the anxiety and challenges that people with cancer and our caregivers experience and know the support massage can bring. I continue advanced training in oncology massage.
When I'm not with clients, you can find me outdoors teaching as a naturalist, hiking, canoeing, meditating, or simply enjoying nature.
In my 21 years as a massage therapist, I have had the wonderful experience of practicing in Phoenix, Seattle, and now Atlanta. I've worked for 7 years providing oncology massage through Piedmont Hospitals Cancer Wellness Programs.
I am trained in lymphatic drainage, cupping, scar tissue release, oncology massage, lymphedema, trauma, hospice, palliative care, and don't forget deep tissue and relaxation!
I meet every client with compassion and respect for their wants and needs regarding their healing. My hope for people is that they find a therapist that they can trust, so that they can completely relax and receive the full benefits of the massage. I believe that the importance of taking time to care for our bodies in invaluable and need more than ever in our rapidly moving world.
Tess
Massage Therapist, LMT
I have been practicing massage therapy in the Atlanta area since 2007, and have truly loved every minute of it! I've since completed an undergraduate in exercise science as well as gone to yoga teacher training. I like to combine all these modalities when working with clients and focus on neuromuscular therapy- meaning I like to spend the majority of sessions on what is actively bothering my clients.
I believe every body is different and I like to take a couple minutes before the massage talking about how my clients can get the most benefit out of their session with me. I incorporate stretching, myofascial release and deep tissue. Being able to combine my passion for the human body and helping others keeps me loving what I do!
My massage skills grow and change with every unique person I work with, but at this time I am fascinated with myofascial release, a technique that loosens up the innervated 'sticky' tissue between muscles that many people aren't aware can cause great amounts of tension in the body.
What I would like my clients to know about me is that I genuinely care about each and every person's journey to healing and being able to aid in that relief is beyond fulfilling to me.
In addition to my work, I always enjoy hiking and spending time outdoors.
Paige
Massage Therapist, LMT, NMT
Having experienced chronic physical pain my entire life, I became very aware and empathetic towards people around me who also experience pain. When I found out about massage therapy as a career I felt an emotional connection to having an opportunity to provide relief to others. What I didn't anticipate was that I would also learn so much about myself and how my own body works. Like many others have said, massage therapy is not just a job but a commitment to respecting people as complex beings and learning how to respect and help heal your own body.
My massage skills grow and change with every unique person I work with, but at this time I am fascinated with myofascial release, a technique that loosens up the innervated 'sticky' tissue between muscles that many people aren't aware can cause great amounts of tension in the body. What I would like my clients to know about me is that I genuinely care about each and every person's journey to healing and being able to aid in that relief is beyond fulfilling to me.
Janet
Massage Therapist, LMT
Over my 30+ years as a massage therapist I have been able to utilize a wide range of different modalities, but I particularly specialize in neuromuscular therapy, TMJ work, myofascial release, reiki and lymphatic drainage. I love my career and anything that allows me to work with my hands.
On top of using my hands, I love being creative. In my free time I enjoy doing origami and working in my yard.
Hannah
Massage Therapist, LMT, NMT
For me, massage is more than a career, it's an integral part of my own wellness plan. Living with scoliosis, massage is part of what helps me thrive. My unique experience as a therapist and as a client has led to my passion for Neuromuscular Therapy and posture correction.
I strive to help clients assess their own posture and discover the root causes of their aches and pains. We then work together to relax and retrain the muscles that contribute to poor alignment, stiffness and pain. The result is a massage that feels amazing, and clients experiencing long lasting pain relief.
I also love working with my oncology clients. Whether their diagnosis is new or they've been in survivorship for years, being able to provide comfort and calm to someone who's experienced such an ugly disease gives me a deep sense of purpose and gratitude.
For those who are just looking to sink into a deep state of relaxation, I've got you covered with my Swedish and Deep Tissue massage skills as well.
Tori
LMT, CNMT, CPMT, Doula
Ever since I was a little girl, I have always had an immense respect for the human body, and a curiosity for how it works. I always thought I wanted to do something in the medical field, so after high school, I began working towards nursing school. I soon learned that my niche was really in the holistic side of healthcare, and enrolled in Gwinnett College, Rising Spirit School of Massage. I graduated in 2009, with honors, and then became certified in Neuromuscular Therapy and Prenatal Massage Therapy.
While practicing Prenatal Massage, I discovered my passion for prenatal healthcare. In 2012, I received my certification as a Labor Doula, in order to provide palliative and supportive care for expectant mothers and their families throughout the birthing year and during childbirth.
As I become more involved in the medical side of massage therapy, I found a deep love for oncology patients in particular and chose to become specially trained in oncology massage. I now practice this in the infusion center at Piedmont Hospital as well as at VMW and consider it some of my most rewarding work.
I have always believed in the human body's innate ability to heal itself, when given the proper care and guidance. I became a massage therapist to assist others in facilitating that healing process, while providing a safe, calm, and understanding environment for them to heal mentally and physically.
I am so excited to work with you throughout your wellness journey!
Massage therapy has changed my life! My professional career spanned from retail to office management and although I was successful, I felt there was something so unfulfilling about the work. Every day felt like a grind. My good friend, who was an esthetician and a massage therapist, tried to convince me for over a year that this was the field for me. Finally I decided to take a chance and go back to school. I quickly realized that I loved all aspects I was learning…the wonders of the human body and the power of positive energy and touch.
I trained at the Salter School in Fall River, Massachusetts, completing a 950-hour training program and became nationally certified as a massage therapist. I am trained in Swedish, prenatal and deep tissue massage, as well as aromatherapy and spa reflexology. I also specialize in oncology massage, having trained with Tracy Walton, who is recognized is a thought leader in the field of cancer massage and research.
Now that I have been working for over 9 years I have experienced so much in the caring and healing of other people, both physically and emotionally. It is truly a privilege to be a part of. One thing I have learned is that people don't take enough time for themselves so I encourage you to make sure you are listening and heeding the call of your body when you are feeling pain or stress. It's so important to take care of yourself.
My husband and I love our new home in Georgia! We have been taking walks on the Chattahoochee River, trying new southern foods and restaurants, and hanging with our two cats Max and Ronin. I look forward to meeting you soon!